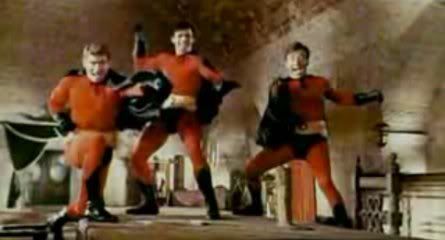 You've gotta love Italian-German-French-Yugoslavian co-productions. Case in point: 1967's
The Three Fantastic Supermen
, a film co-written and directed by "Frank Kramer" (actually Gianfranco Parolini). It stars Tony Kendall, Brad Harris and Aldo Canti (credited as Nick Jordan) as a trio of acrobatic thieves who use their bulletproof supersuits and other gadgets to evade the authorities (although it isn't long before it comes out that Brad is actually an undercover FBI man). If they have one superpower, it is the ability to jump around on conveniently placed trampolines (at least that's what constantly giggling mute Nick does). If they have another, I clearly missed what it was, although it could possibly be supersmarminess.
Their first job as a team is ransacking the vault at the embassy of a fictional Middle Eastern country, but soon they're after a bigger score, namely the "Universal Reproducer," which can duplicate anything: gold, dollar bills, even people. Naturally it's fallen the hands of devious philanthropist Wilford Golem, who runs a school for precocious children called the Island of Smiles as a front for his world domination scheme. The film is full of ridiculous dubbed dialogue (my favorite line is when one of the sub-villains sneers, "We're going to hold those fools in their car as long as possible. They'll burn like a big pile of hay.") and a mildly disturbing scene where the three heroes run around in nothing but their capes and skimpy underwear (this is a kid's film, right?). Apparently that failed to scare audiences away and it was followed by seven sequels, including 1968's
Three Supermen in Tokyo
, 1970's
Three Supermen in the Jungle
and 1979's
Three Supermen Against the Godfather
(which somehow involves a time machine, which is all I really need to know).