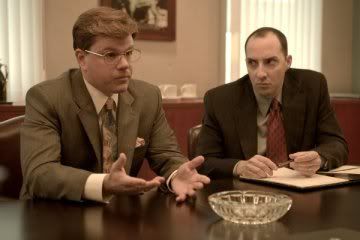 This has been a very good year to be a Steven Soderbergh fan. First, I got to see the roadshow version of Che in March. Then came The Girlfriend Experience in May. Now it's September and here's The Informant! (exclamation point part of the title, but even if it wasn't I probably would have added one anyway). I tell you, it's like 2000 (the year he put out Erin Brockovich and Traffic) or 2002 (Full Frontal and Solaris) all over again -- only more so.

His most assured and breezily entertaining movie in a decade (outside of the Ocean's films -- little surprise, then, that it was cut by their editor, Stephen Mirrione), The Informant! stars a paunchy Matt Damon as a biochemist-turned-executive for a major food corporation who turns whistle-blower and proceeds to turn his life upside-down without ever seeming to comprehend what he's doing. As he goes about his business -- with his frequently hilarious internal monologues laid over top -- we watch as he enthusiastically throws himself into the job of ratting out his bosses to the FBI (represented by special agents Scott Bakula and Joel McHale, who never quite know what to make of their man on the inside). Soderbergh and screenwriter Scott Z. Burns (who also co-wrote The Bourne Ultimatum) get a lot of mileage out of the contrast between Damon's ostensibly noble motivations and the myriad ways he nearly bungles things, especially once the FBI starts wiring him to collect evidence. (Fittingly, the opening credits are shown over a reel-to-reel tape being spooled up like something out of a late-'60s spy flick, which is reinforced by Soderbergh's decision to have Marvin Hamlisch do the score.)

In addition to Bakula and McHale, the uniformly sharp supporting cast is anchored by Melanie Lynskey as Damon's devoted wife. Among his friends and business associates (who he also considers his friends even after he starts betraying them) are Thomas F. Wilson (as the head of security), Eddie Jemison, Scott Adsit, Joe Chrest and Tom Smothers (as one of the corporate bigwigs); and on the side of the law and order are Patton Oswalt, Paul F. Tompkins, and Dick Smothers (as a judge). Throw in Tony Hale as Damon's increasingly out-of-his-depth lawyer and you've got yourself a cast that is positively stacked with comedic talent. No wonder I laughed so much and so hard.

This was also due in no small part to Hamlisch's jaunty score, which often recalled the ones he wrote for Woody Allen at the start of his directing career. One of the cues even sounded like a re-arrangement of the theme to Bananas, which definitely undercut the self-importance of Damon's mission -- at least the way he describes it to himself. He may think he's living a Michael Crichton or a John Grisham thriller (at one point we even see him watching The Firm in a theater, which is appropriate since the the bulk of the film takes place in the early '90s), but he really has more in common with Fielding Mellish than Tom Cruise. Of course, that would be just one of many things this informant would have to admit to himself.