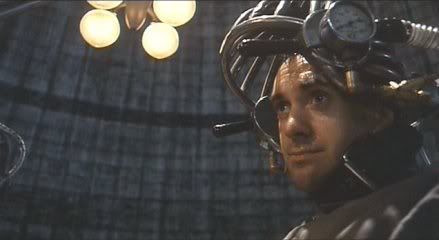 Even if Terry Gilliam's Brazil hadn't been released (or, rather, allowed to escape) on December 18, 1985, it would still be seasonally appropriate (all the "Happy Christmas"-ing and so forth). Of course, the fact that our world is looking more and more like the one envisioned by Gilliam and his collaborators 20 years ago makes it all the more disturbing. Government-sanctioned torture, anyone?

Brazil has long been my favourite film of all time, so I sat down this afternoon to take another look at it and was bowled over by it as usual. This is one of those films where I have a silly grin on my face the whole time I'm watching it -- and it still gives me chills, which means its potency hasn't faded one iota.

And I can't say enough about Criterion's comprehensive 3-DVD set. Sure, it's a wee bit on the expensive side, but for the $60 price tag you get Gilliam's extended European cut of the film, a second disc crammed full of behind-the-scenes documentaries and supporting materials, and a third which contains Universal's abominable "Love Conquers All" cut, which is a viewing experience of an entirely different sort. It shows what could have been if Gilliam hadn't been tenacious enough to protect his vision and get his cut of the film out there.

Interestingly enough, when I first saw Brazil on television years ago, it was this butchered version that was broadcast, owing to the fact that it was the only cut Universal had on hand that was short enough to fit into a two-hour time slot. (They asked Gilliam if he would supervise a television cut -- which would require him to excise a good third of the film -- but for some reason he declined.) I didn't think too much of the film at the time, but once I got hold of the real version, I was instantly turned around.

So, happy 20th birthday, Brazil. If there's one thing of which I am certain, it is that I will return to you again and again...