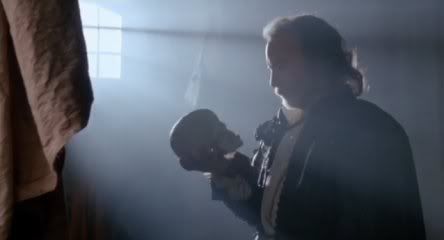 If I had been more on the ball I would have watched Tom Stoppard's Rosencrantz & Guildenstern Are Dead back on February 8th to mark the 20th anniversary of its American premiere. As it is, I'll have to made do with acknowledging the anniversary of its release in Germany, which isn't Denmark, true, but it's close enough for government work. First screened at the 1990 Venice Film Festival, where it won the Golden Lion, Rosencrantz & Guildenstern remains one of the few play-to-film adaptations that not only took a quarter of a century to make the leap from stage to screen, but was directed by the original playwright to boot. (The cover of the DVD calls it "A Tom Stoppard Film," but it could just as easily read "The Tom Stoppard Film" since he has yet to attempt a second and at this point in his career it's doubtful he ever will.)

In addition to directing Stoppard also wrote the film's screenplay, which is quite ruthless when it comes to cutting his play down to size -- all the better to allow him to incorporate physical comedy for the title characters (Gary Oldman and Tim Roth) to engage in alongside their humorous and/or philosophical banter. (The best marriage of the two comes when they play a game of Questions on an indoor tennis court.) It also gives them a chance to eavesdrop on more bits and pieces of Hamlet, which had essentially been limited to the scenes in which they actually appeared in the stage version. As performed by Iain Glen (Hamlet), Donald Sumpter (Claudius), Joanna Miles (Gertrude), Ian Richardson (Polonius) and Joanna Roth (Ophelia), the drama that surrounds the perpetually confused Rosencrantz and Guildenstern is so well-realized that it's almost a shame Stoppard didn't produce his own complete version of Hamlet at the same time, but that would have been in direct competition with Zeffirelli's adaptation and that wouldn't have been good for anybody.

One casting choice that seems odd on its face but really works in the film's favor is Richard Dreyfuss as the Player, whose knowledge of how tragedy works ("We aim for the point where everyone who is marked for death dies.") would be invaluable to our intrepid duo if they were smart enough to keep up with him. He also sums up the film pretty well when he explains that his troupe does "onstage the things that are supposed to happen off, which is a kind of integrity if you look on every exit as an entrance somewhere else." The fact that Stoppard had that very thought in the mid-'60s is probably the main reason why people know (or care) who Rosencrantz and Guildenstern are today.