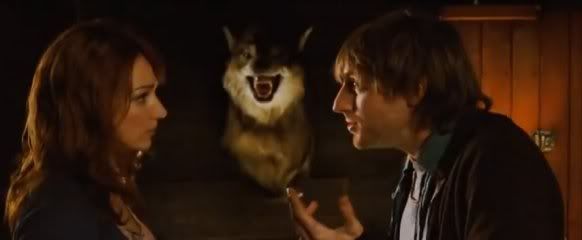 I normally wouldn't see a horror movie on opening day -- especially at an evening showing when the audience is liable to be at its most obnoxious -- but the opportunity to see a film like The Cabin in the Woods on a date like Friday the 13th doesn't come along very often. And considering this is a film I've been hearing about for years (it was shot in 2009, but its release was held up due to MGM's bankruptcy and plans for a proposed 3-D conversion which were mercifully scuttled), I'm happy to report that it was more than worth the wait. Horror aficionados should get the biggest kick out of it, but anybody who goes in expecting it to be your typical spam-in-a-cabin flick (as Joe Bob Briggs dubbed them) will probably walk out scratching their heads. My hope is that the people who do like it talk it up amongst their friends -- and are considerate enough not to give away too many of its surprises.

Accordingly, I'm tempted to just leave it at that, but I would be remiss in my duties if I didn't lay out the basic premise, which co-writers Joss Whedon (he of Buffy and Firefly fame, although I must confess I've never seen either) and Drew Goddard (who also directed) establish with maximum efficiency and then twist into dazzling and unfamiliar shapes. In broad strokes, a quintet of college co-eds -- everygirl Kristen Connolly, jock Chris Hemsworth, uninhibited Anna Hutchison, stoner Fran Kranz, and brain Jesse Williams -- drive out to Hemsworth's cousin's country home for the weekend and, ignoring the dire warning of creepy gas station attendant Tim De Zarn, find themselves beset by forces beyond their comprehension. It's all in a day's work, though, for the technicians (headed up by the always-welcome Richard Jenkins and Bradley Whitford in the control room) who are tasked with making it all happen for reasons that are nebulous at first but become clearer as the film goes along. (And no, I don't consider that a spoiler since it's given away in the trailer.)

And that's exactly as far as I want to go, at least as far as the plot is concerned. Suffice it to say, if you're even vaguely interested in this film, see it as soon as humanly possible so you can experience it in as virginal a state as possible. Of course, if you've read this far, then you know a lot more about it than I did going in, but I can assure you I've barely scratched the surface. The year may be young, but unless something comes along to knock it off its perch, I'm ready to name The Cabin in the Woods the best horror film of 2012.