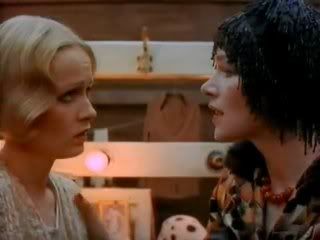 When you've made a film as confrontational and divisive as The Devils, what do you do for an encore? Well, if you're Ken Russell, you turn right around and make a G-rated MGM musical starring Twiggy, that's what. Far from being a straightforward adaptation of Sandy Wilson's West End smash, The Boy Friend finds Russell in a typically playful mood, using the show as the framework for the ultimate backstage musical with Twiggy as the harried assistant stage manager who has to fill in at the last minute when the star (an uncredited Glenda Jackson) is laid up. This provokes a certain amount of tension within ranks (Bryan Pringle gets a plum role as the actor playing her father, who objects to having to modify his performance to accommodate her Cockney accent) and she gets a metric ton of conflicting advice on how to get through her first night.

On top of everything else, there's a famous Hollywood director (Vladek Sheybal) in the audience, which inspires everyone in the cast to shamelessly play up to him (with the ambitious Antonia Ellis as the most shameless upstager of them all). Then there's the actor Twiggy is sweet on and has to play opposite (Christopher Gable) who appears to have his eyes on another, which adds yet another layer of drama to the proceedings. Frankly, it's enough to make your head spin (I haven't even mentioned Tommy Tune's role as a lanky tap-dancing machine with a curious case of amnesia), but Russell stays on top of everything at the same time he encourages everyone to go unabashedly over the top.

In addition to the story's puzzle-box structure, Russell also allows his characters to slip into fantasy, giving him the chance to open things up and stage some breathtaking musical numbers, basking in the artificiality of it all. Sure, the reality is that the company is playing to a mostly empty house (much to actor-manager Max Adrian's dismay), but Russell must have realized this would be his one chance to indulge his inner Busby Berkeley, which he does on multiple occasions. He also revels in some of the hoariest cliches around, like the moment where Gable removes Twiggy's glasses just before she's about to go on and declares, "But you're beautiful!" Then again, Gable also gives her the most straightforward piece of advice she hears all day: "If you really mean what you say on the stage, you can't go wrong." That can apply to film as well, for even at his most flamboyant, Russell always means what he says.