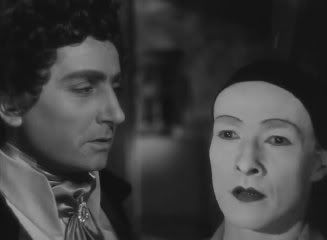 When I heard that Marcel Carné's Children of Paradise had been restored and was being re-released in select theaters, I hoped the IU Cinema would be one of them, so you can imagine how elated I was when I discovered that it had been added to the summer schedule (along with a few other films I was just as eager to see). First released in 1945 and produced while France was under German occupation, Children of Paradise was an epic undertaking, a two-part film running over three hours and involving elaborate sets and hordes of extras. It's the kind of project that would be difficult enough to pull off even under the best of circumstances, so the fact it exists in its present form and is such an unparallelled gem is all the more miraculous.

The scenario (by Carné's frequent collaborator Jacques Prévert) is quite ingenious, presenting us with a roundelay of unrequited love set in the Parisian theater world of the previous century (which was about as far removed from living under the Nazis as you could get). Much of the drama is centered on the ravishing Arletty, who is fervently pursued by multiple suitors, chief among them aspiring actor Pierre Brasseur and accomplished mime Jean-Louis Barrault. Barrault, in turn, is loved by theater manager's daughter María Casares, who is probably the one character who knows how hopeless her case is. Also in the mix are incorrigible rogue Marcel Herrand, who claims not to love Arletty but does note that she's the only woman for whom he has no contempt, and rich count Louis Salou, who becomes smitten with her upon seeing her on stage one night. It seems she's the kind of woman that everyone falls in love with at first sight.

Carné and Prévert spend the first part of the film (which is subtitled "The Boulevard of Crime") introducing us to the characters and their world, which also has room for roving peddler Pierre Renoir and blind beggar Gaston Modot, and the second part (subtitled "The Man in White") catching up with them several years later. And interspersed amongst the personal dramatics we get to see a generous sampling of their theatrical endeavors, including a few pantomimes (where the performers are fined for speaking onstage), a play that an under-rehearsed Barrault has to improvise his way through (which results in him being challenged to a duel by the authors), and a highly symbolic production of Othello. There are even a few cases where their personal lives trump their professional obligations, which puts the lie to the adage that the show must always go on. Sometimes the heart has other ideas.