Spent the afternoon with a pair of pre-Code horrors that TCM aired at the beginning of the month. First up was 1932's Doctor X, which was directed by Michael Curtiz in the same 2-strip Technicolor process that he used for Mystery of the Wax Museum the following year. This time it was in service of a story about the Moon Killer Murders (so named because they always occur during the full moon) and the search for the man responsible for them. Eminent surgeon Lionel Atwill is consulted by the police after the most recent killing, but the medical academy he runs comes under scrutiny when it's confirmed that the culprit uses a scalpel on his victims. Given 48 hours to uncover the guilty party before the press breaks the story, Atwill invites the four suspects (all members of his faculty) to his Long Island estate so he can conduct some highly unethical (and just plain misguided) tests in his high-tech laboratory.

In addition to his servants, who are made to dress up and carry out bizarre re-enactments of the Moon Killer's murders, Atwill is also accompanied by his daughter Fay Wray, and they are dogged by comic-relief newspaper reporter Lee Tracy, who is the purveyor of all the time- and mood-killing physical comedy you could ever want in a '30s horror film. What places Doctor X firmly in the pre-Code camp is all the blunt talk about cannibalism since the Moon Killer is said to take chunks out of his victims -- not that we ever see anything like that. What we do see is a riveting scene of the villain applying "synthetic skin" to his face, molding it into a hideous visage which is highly reminiscent of the one Atwill would adopt in Mystery of the Wax Museum. Since both films share the same makeup designer, Max Factor, I imagine that wasn't a coincidence.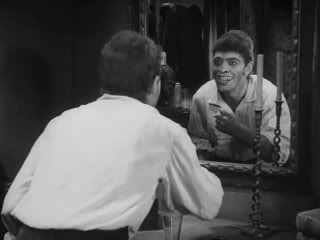 The second film of the day was 1931's Dr. Jekyll and Mr. Hyde, which was the first sound version of Robert Louis Stevenson's famous tale. The challenge of portraying the main character in both of his guises was taken up by Fredric March, who won the Academy Award for Best Actor for his troubles (and was the only actor to win an Oscar for a role in a horror film until Anthony Hopkins repeated the feat six decades later). An extremely straight-laced gentleman whose interest in man's dual nature inspires him to formulate a concoction which unleashes his bad side, Dr. Jekyll is practically driven into becoming the decidedly more feral Mr. Hyde by his traditionalist future father-in-law (Halliwell Hobbes), who refuses to budge on the wedding date he's picked out for his daughter (Rose Hobart) and even takes her away for a month just when Jekyll's urges are becoming most urgent. When you get right down to it, he doesn't need much encouragement to take advantage of London's amusements (foremost among them bar singer Miriam Hopkins), especially since he believes he can do so without any repercussions as the brutish Hyde.

To accomplish March's transformations, director Rouben Mamoulian employs just about every trick in the book, using different shades of makeup and colored filters -- which are undetectable when filmed in black and white -- to achieve some astonishing in-camera effects. Of course, March's appearance as Hyde, with his simian features and pronounced canines, is astonishing enough as it is. Mamoulian also makes extensive use of wipes, dissolves and superimposed images, and shoots several scenes from the main character's point of view, which can't have been easy with the unwieldy cameras that were in use at the time. Then again, he may have identified with Jekyll's statement early on when the good doctor says, "It's the things one can't do that always tempt me." Sometimes the desire to show off a little is the strongest temptation of them all.