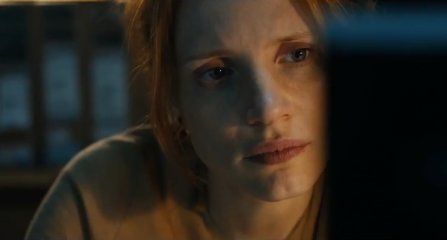 As it's been in wide release for two whole weeks, I figured it was high time I hunkered down and saw
Zero Dark Thirty
, even if I don't think it has much chance of following in
The Hurt Locker
's footsteps by winning Best Picture at the Oscars (owing to the Academy's failure to nominate Kathryn Bigelow for Best Director). And before anyone asks, no, I do not want to get into the torture issue. The way it's used in the film, it's obvious that it's incredibly nasty. If you wish to extrapolate, that means torture that's used in real life is also quite heinous. Let's move on.
Since the last trailer before the movie started was
The Call
, in which Halle Berry plays a heroic 911 operator, it was somewhat jarring when
Zero Dark Thirty
opened with a collage of recordings of 911 calls from 9/11. The film doesn't dwell too much on the events of that day, but it does hang over the rest of the proceedings and is the prime motivator for CIA analyst Jessica Chastain, whose entire career at the agency is spent hunting Osama bin Laden, its chief architect. Within moments of stepping off the plane from Washington, Chastain is given a crash course in enhanced interrogation techniques from fellow agent Jason Clarke, who means business when he says, "When you lie to me, I hurt you." Given a desk at the U.S. embassy in Islamabad and introduced to the rest of the team, she's less concerned about stepping on anyone's toes (e.g. she definitely gets off on the wrong foot with veteran analyst Jennifer Ehle and becomes a thorn in the side of boss Mark Strong) and more intent on running down her own leads, chief among them the phantom-like courier Abu Ahmed.
Screenwriter Mark Boal definitely had his work cut out for him, telescoping a decade's worth of intelligence gathering down to two hours. (That's the amount of screen time that elapses between the start of the film and the commencement of the raid on bin Laden's compound in Pakistan.) The way is signposted with various high-profile acts of terrorism -- whenever a new scene starts by giving the place and date, that's the cue to get anxious -- and Chastain experiences a number of personal setbacks, including an ambush that forces her to pull up stakes and return to the States, where she continues pushing for action and catches the eye of CIA director James Gandolini. Curiously enough, I found the lead-up to the raid a lot more compelling than the raid itself, even if that is where Bigelow flexes her directorial muscles the most. I guess I'm just not as gung ho for combat scenes.